Why are mobile crushing stations so popular?
The mobile crushing station can be said to be a "walking crusher", which can better meet everyone's needs for the mobility of the crusher. It can not only meet the field operation needs of many industries, but also move more conveniently to Work anywhere and shorten the construction period, so the mobile crushing station is very popular. The performance of the station is mainly manifested in the following aspects
1. Strong integration performance and flexible use
The mobile crushing station uses the form of an integrated complete set, which avoids the complicated installation of split components, saves time and labor costs, and greatly reduces the consumption of materials. Moreover, the mobile crushing station is tightly installed with all components, which improves the The flexibility of stationing at the site makes the operation easier and faster. Since the mobile crushing station adopts the form of an integrated unit, it has a compact structure and a small turning radius, which is convenient for driving on roads and rough roads, which greatly saves time and improves work efficiency.
2. Material transportation costs are greatly reduced
Because the mobile crushing station can move to the location where the material exists for crushing, the transportation of the material is avoided, and the mobile crushing station can extend the unit, which makes it more convenient to crush the material, because the extended unit can directly send the crushed material into the Transfer truck for on-site transfer.
3. More flexible configuration
The mobile crushing station can be flexibly configured according to the specific requirements of customers to meet the customer's process configuration requirements for material types and product requirements in the process, and to meet various crushing requirements of customers. The side discharge of the discharge hopper of the mobile crushing station makes the conveying method flexible. In addition, the diesel generator can supply power for the machine itself, and can also be used to provide joint power supply for the process system configuration units, and the mobile crushing station, for the coarse crushing and fine crushing screening systems, can be operated independently by a single unit, or can be flexibly formed into a system to configure unit joint operations. The flexibility of operation is greatly improved and the cost is reduced.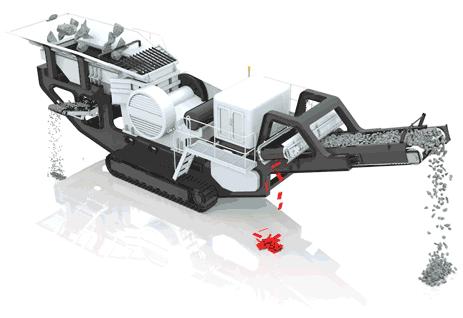 Mobile crushing station can be divided into jaw mobile crushing station, impact mobile crushing station, mobile cone crushing station, mobile sand making crushing station, mobile screening station and tire type mobile crushing station, mainly used in metallurgy, chemical industry, building materials, hydropower, etc. It can also be used for the recycling and reuse of construction concrete waste. The mobile crushing station is a new type of crushing equipment, which solves many problems for customers and saves costs.