Impact Plate and Square Steel of Impact Crusher
The function of the impact plate is to withstand the impact of the material struck by the blow bar, so that the material is crushed by the impact, and bounces the crushed material back to the impact area, and then performs impact crushing again to obtain the required product particle size.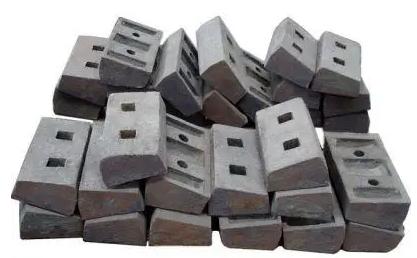 There are many forms of counterattack boards, mainly including broken lines and arcs. The broken-line counterattack surface can make the materials on each point of the counterattack plate impact in an approximately vertical direction, so a better crushing effect can be obtained. The arc-shaped counterattack surface can make the material block bounce out from the counterattack plate, and form a fierce impact crushing area in the center of the circle to increase the free impact crushing effect of the material.
The impact plate is generally welded by steel plate. The counterattack surface is equipped with a wear-resistant liner, but it can also be composed of counterattack rollers or grate plates. The counterattack surface with grate seams has less fine-grained product content, which can increase the production capacity of the equipment and save power consumption. However, there are defects such as complex structure, difficult to replace the counter surface after wear, and fast wear.
Most of the rotors of the impact crusher are made of integral cast steel, the structure is firm and durable, and it is easy to install the blow bar. Its mass is large and can meet the crushing requirements. The rotors of small and light impact crushers can also be welded with steel plates.
Square steel is square and can be divided into seamed and seamless. Seamed square steel is made of steel plates welded together to make square steel pipes. Seamless square steel is made of seamless steel pipes. Its compressive capacity is far greater than that of the seamed square tube. The impact breaking square steel plays a role in preventing the material from being discharged from the front; the impact breaking strictly implements the heat treatment process, uses high-strength wear-resistant parts, and the key components are imported inspection-free products such as Torrington bearings. The equipment is a one-time investment with high benefits. Square steel theoretical weight calculation formula: side length Х side length Х0.00785=kg/m (only for reference, based on actual situation).